29% of project problems due to poor cooperation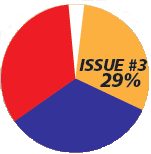 Negotiations
Get the results you need and the outcomes you deserve; Hint: The trick is being able to alter or create the perceived negotiability and value of any issue or position.
Conflict Resolution for Leaders
Competent language skills to de-escalate conflict and facilitate resolution.
Words that Change Minds
Predict and influence bosses, co-workers, team members, peers, prospects, subordinates, clients, and customers behavior.
Facilitation
Manage in an influential way by facilitation skills. Benefit your team immediately by sharpening current leadership skills.